Scholarships
The first obligation to fulfilling our mission is to award Scholarships for high school seniors.
At UTBEF, we do more than providing a $2000 scholarship to help with the cost of a college degree. We guide our scholarship recipients and their families through the transition from high school to college by providing mentoring, information, and resources to assist them in their journey. We also help by raising awareness through public outreach and media.
Application
Application for the UTBEF Scholarship is through the common application at local high schools. This application is reviewed by the Hillsborough Education Foundation (HEF) and Pinellas County Education Foundation (PEF) and our organization are provided with a list of qualified candidates. The Scholarship Committee reviews the applications selected based on our criteria and selects one recipient per school. Preference is given to students entering directly into a career preparation course of study which produces a certification or a degree.
Eligibility
To be eligible for consideration, students must meet the following requirements:
A senior at Alonso, Countryside, East Lake, Leto, or Sickles High School.
A minimum cumulative GPA of 2.5 or higher.
Confirmation of intent to enter an accredited Florida university, community college, or vocational/technical education program in the Fall semester of the year making the application.
Must meet the HEF, PEF, or Leto Culinary Arts deadlines and guidelines.
Selection Criteria
Once qualifying applications have been received by the UTBEF Scholarship Committee, the selection will be made based on the following criteria.
GPA
Cumulative GPA must be a 2.5 or higher (unweighted) for his/her high school career.
Leadership Skills
Has the student demonstrated leadership in school, at home, and in the community? Examples might include coaching a youth sports team, or taking on extra household duties due to a parent's illness, absence, or injury.
Community Service
Does the student have verifiable community service? Examples of this might include volunteer work with a local food pantry, serving as a teen counselor for a church summer camp, organizing a beach clean-up, or raising funds with Relay for Life.
Financial Need
Students meet the qualifications for free/reduced-price school lunches according to the Federal Poverty Guidelines.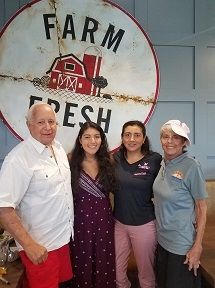 Emily Santiana and her mother Marisol enjoying breakfast at First Watch with Jerry Custin and Mary Garry Thomson, board members Upper Tampa Bay Chamber Education Foundation. Emily is our 2019 scholarship winner from East Lake High School. She is attending the University of Florida with a dual major in education and political science. She plans to pay it forward by being an outstanding teacher. There's little about her commitment and capability to do just that. Congratulations Emily.